Create Custom Floating Acrylic Frames!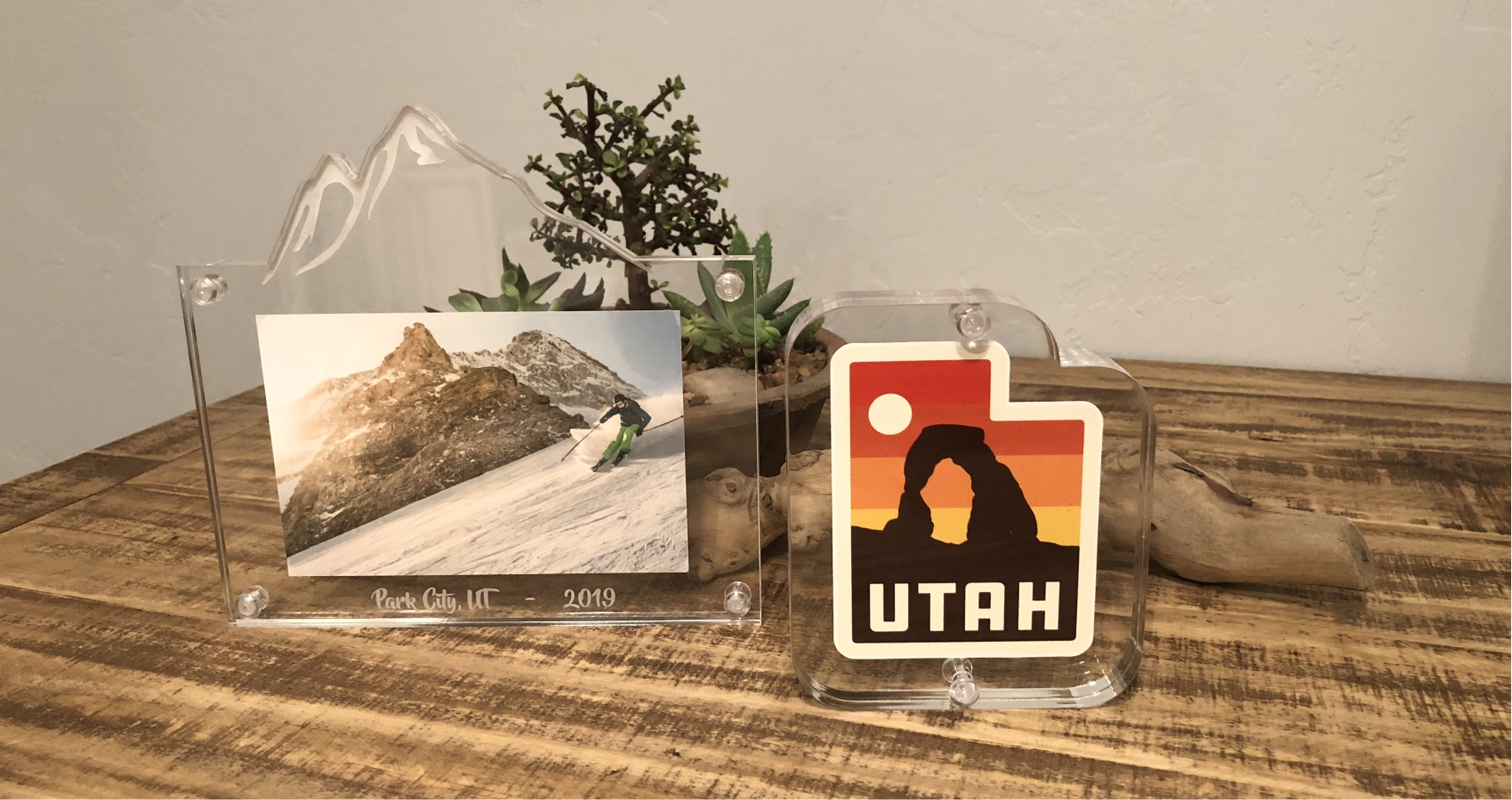 Acrylic Frame Screws: An Easy Way to Create a Floating Frame.
These clear polycarbonate screws make it easy to create elegant and professional customized floating acrylic frames. Using a laser engraver and some graphic design skills allows you to highly customize frames to commemorate a family vacation, an important document, or a piece from a favorite local artist! The Acrylic Frame Screws are robust and easy to use. There are two pieces to each screw: A threaded screw and a threaded post. It is important to keep in mind that the spacing with these screws is made to accommodate the image being put between the acrylic sheets. In other words; if you try to sandwich two sheets together with nothing in between them, there will be "play" and the sheets won't bind tightly together. In some cases, you will need to include a piece of cardstock to back an image to create a little more space for a snug fit.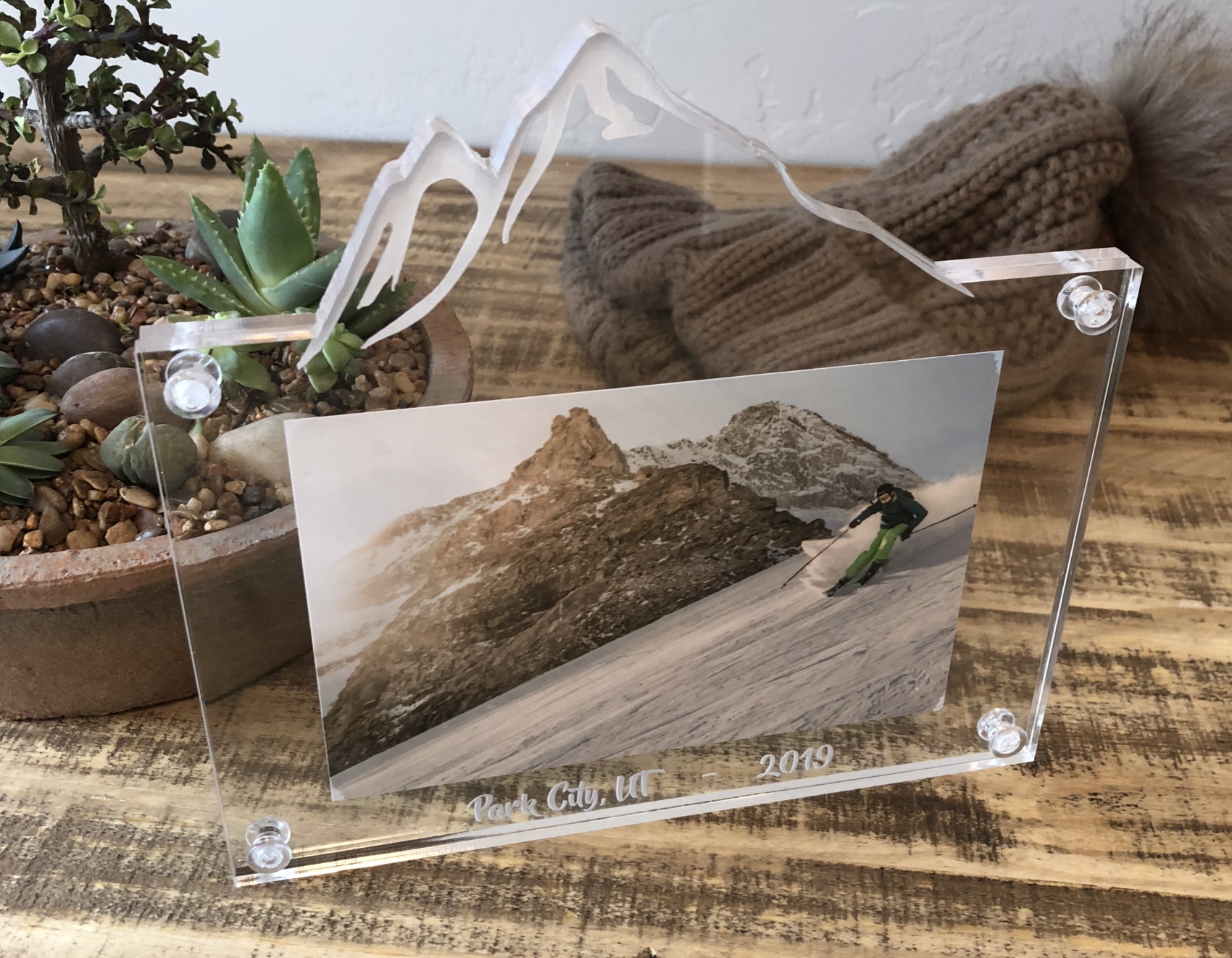 We created a few unique pieces for our Acrylic Frame Screw examples. First we started off with a photograph of a friend on the ski slopes at one of our world famous ski resorts here in SLC, UT. This image was taken with an iPhone and printed at Costco. Next, we wanted to personalize it a bit. So, we created the mountain range profile design. There are two parts to this step: The profile cut and the engraving. Both pieces of acrylic have the profile cut, but only the back layer has the engraving. This achieves a professional look by creating depth along with the engrave. So, to recap, the front piece just has the profile cut, the back piece has both the profile cut and the engraving. Besides the mountain profile, we also included a location and year, "Park City, UT - 2019" with a catchy themed font. This was reverse engraved into the top layer, again, creating a nice finished professional depth. After that, we have the magic of the acrylic screws! It's as simple as laser cutting (4) .240" dia holes located as wanted. After all the cutting is done, carefully place the picture in the center, align the top piece, and install the screws. That's it! You now have a floating acrylic frame with your picture as well as some ornamental engraving!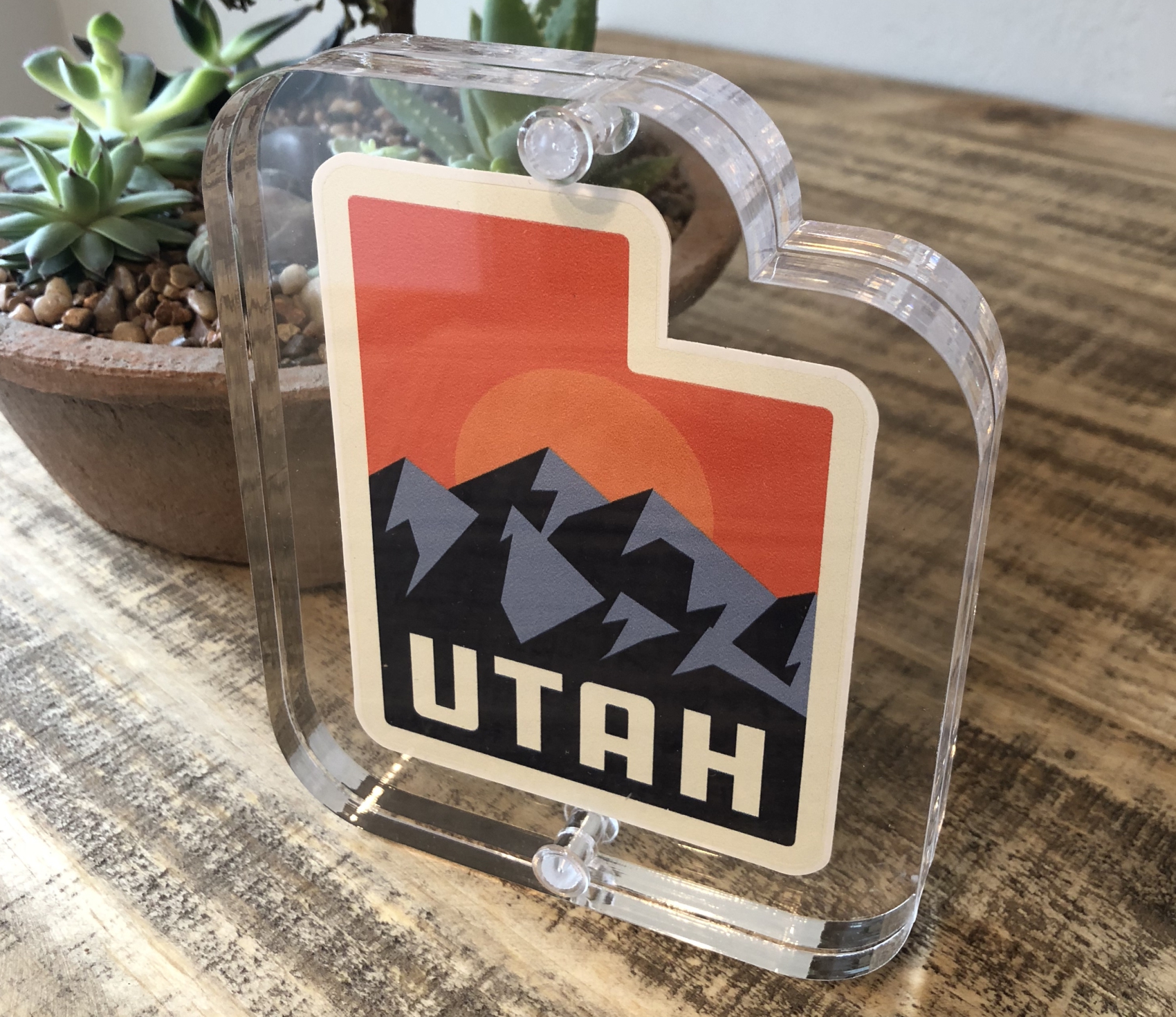 Our next piece is an office favorite! We took a Utah sticker and simply did a profile cut of the shape out of our 1/2" Clear Acrylic Sheet. We placed the two holes for the Acrylic Frame Screws centered, top and bottom. This is a very simple piece that stands out, if for nothing else than bright colors of the sticker! This piece relies on the sticker and accents it beautifully. The set up on this piece was very straightforward: Design a profile/contour cut of the sticker, include the holes for the Acrylic Frame Screws, and away you go!
Creating Catchy Featured Pieces
As you can see, it can be incredibly simple to take ordinary pieces of acrylic and applying some magic to them to create floating frames for everything from special stickers, documents, permits, printed awards, photographs, or even art pieces. Including some clever laser cutting design and engraving can enhance the pieces even further but personalizing the pieces to suit the special occasion or vacation!