Valentine's Day!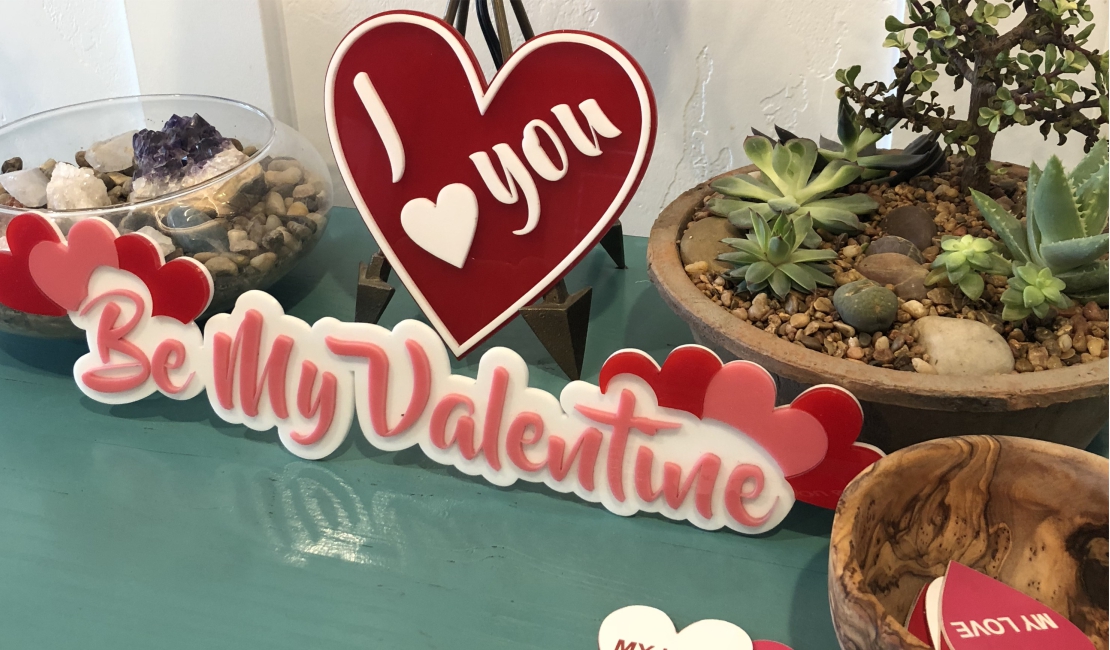 "Standard" Color Sheets
Our 3199 Pink profile laser cut and attached to 7328 White with 3M adhesive tape

Our 7328 White profile laser cut and attached to 2283 Red with 3M adhesive tape

When our "standard" color sheets are laser cut into creatively designed pieces, they're anything but standard! The great thing about our standard colors is that they can be used in such a variety of ways; Everything from laser cutting home decor pieces to outdoor displays. A great way to get creative with our acrylic is to create depth in your pieces. Layering creates nice depth and allows pieces to stand out when on display. Creating depth and layering couldn't be easier!
In the top image, we applied 3M adhesive tape to the sheet of 3199 Pink and then profile laser cut the phrase "Be My Valentine" with a catchy font face. The base 7328 White layer is a bubble effect outline of the "Valentine" phrase, created in CorelDraw with the Contour Tool. Once we laser cut the pieces, it was a simple task of removing the masking of the 3M tape on the 3199 Pink letters and applying them!
In the bottom image, we basically did the same thing as above. We applied 3M adhesive tape to the 7328 White sheet and then profile laser cut the heart border and the "I (heart) you" phrase in the same font face as the "Be My Valentine" piece. The base 2283 Red layer is just a simple heart profile, also laser cut. Once everything is cut, we did the same thing and removed the masking of the 3M tape and applied the pieces.

Using catchy fonts with your designs are sure to add to the appeal of each piece, whether you're displaying them around the house to make holidays even more festive, or selling them to your customers in your online store!
Fluorescent Acrylic Sheet
Our 2085 Fluorescent Red Rast/Vect laser processed with "I love you" and then profile laser cut into the heart shape
An ever popular line of our acrylics, Fluorescent! The obvious choice of color for February is our 2085 Fluorescent Red (depending on how you see it, some customers consider this color a fluorescent hot pink!). Fluorescent sheets are fantastic in that they literally glow in typical daylight or indoor light; No special effects needed! Worth pointing out that the fluorescent sheets are not "glow in the dark", but rather disperse natural or indoor light to the edges of the sheet to create the glow you see.
For this piece, we used the technique that involves a Raster/Vector laser process. Raster/Vector is a process that is the middle ground between Raster (engraving) and Vector (cutting) resulting in a scoreline effect. It can be a fantastic way to go, especially when you want to avoid the long processing times of engraving. We laid out the profile heart shape and overlaid lots of "I love you" phrases in varying sizes over the heart to fill the entire space, then reverse Raster/Vector cut the layout. Once that was complete, it was a simple profile laser cut of the heart shape. This ends up being a super eye catching, edge glowing, piece that will look great on the kitchen counter or entry table for Valentine's Day!
Color Mirror Acrylic Sheet


Our Ruby Red Mirror reversed Rast/Vect laser processed with "I love you" and then profile laser cut into heart shape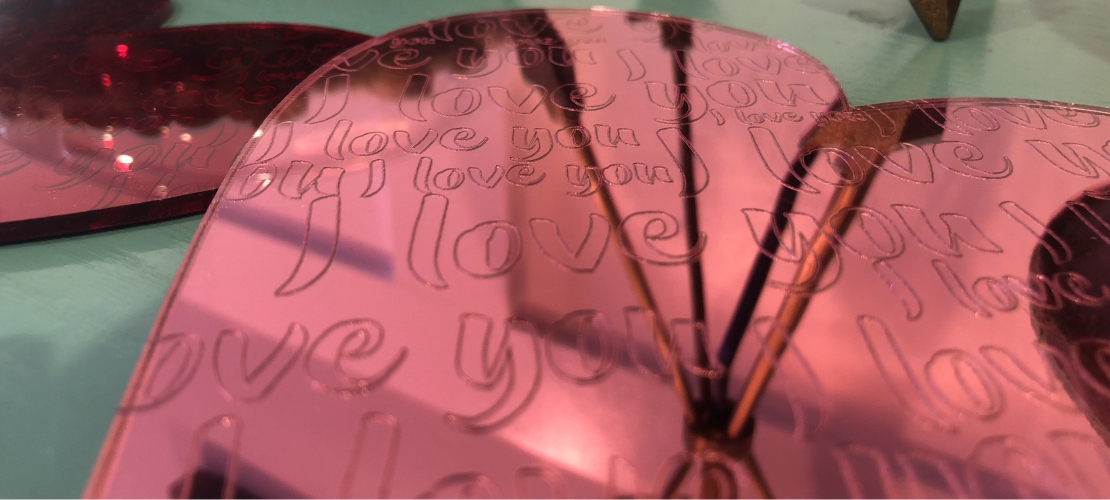 Closeup of our Pink Mirror with reverse Rast/Vect laser processing.
Color Acrylic Mirror; An open door to creativity! Our picks from our color acrylic mirror lineup is probably pretty obvious: Pink Mirror & Ruby Red Mirror! Mirrored acrylic sheet is a very practical type of material when using the regular "clear" or "silver" mirror, as it looks and behaves exactly like glass mirror. We have had customers use our Clear/Silver Mirror to put up wall sized mirrors in home gyms, dance studios, bathroom mirrors, etc. Since the sheet is super lightweight, people prefer it to heavy glass mirror, especially in large coverage areas and requirements. Now, while Clear/Silver mirror has its practical uses; What do we do with COLOR mirrored sheet? We CREATE! We used our Ruby Red and Pink Mirrored sheet and processed them with the exact same technique as the 2085 Fluorescent Red heart piece (above). Our Acrylic Mirror is manufactured by taking a sheet of totally clear acrylic and laminating a "foil" onto the back; The foil will dictate whatever color the mirror will be. The foil has a tough grey backing, which can be engraved into, allowing for some excellent depth to your pieces! So, just like above with the 2085 Fluorescent Red, we just Raster/Vector laser processed the "I love you" phrases into the grey backing and the profile heart cut the sheet into the finished product. These are awesome pieces to display around the house or the office; And because they're mirrored, you'll catch all the people gazing at them in admiration!

2-Tone/Layer Laserable Plastic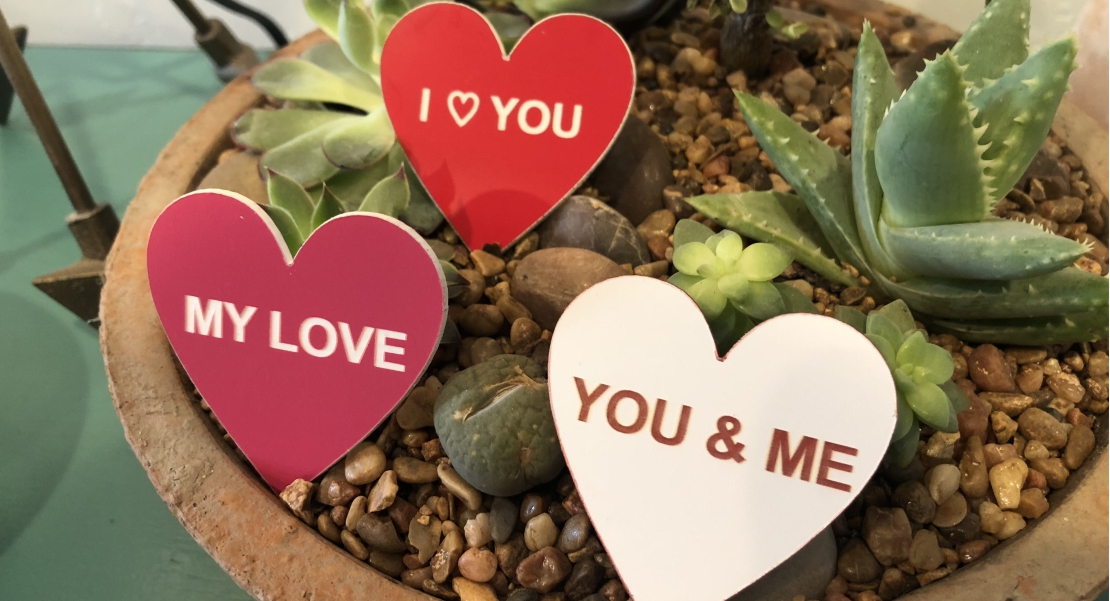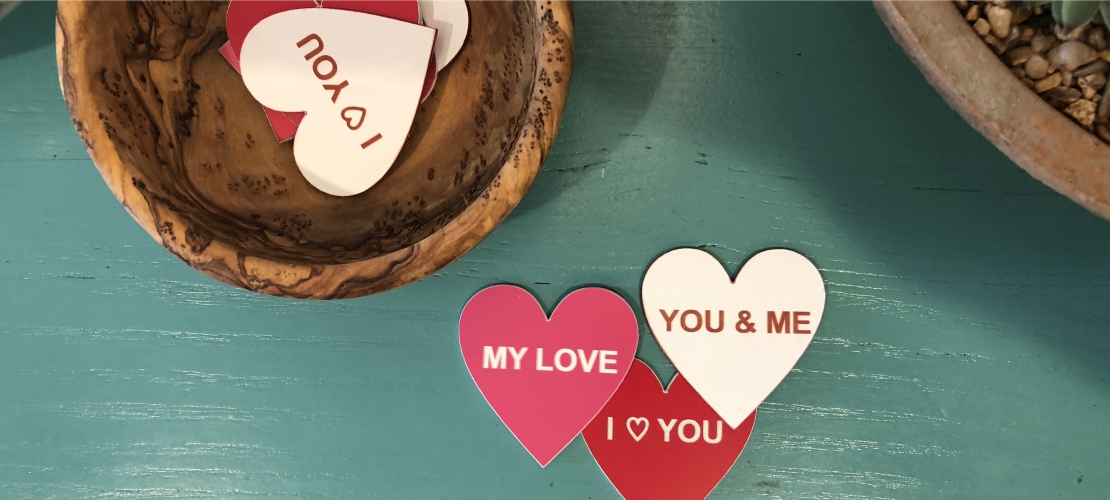 Our Pink on White, Red on White, & White on Red 2-Tone/Layer laserable plastic sheet laser engraved with classic candy heart phrases and heart profile cut

Our 2-Tone/Layer laserable plastic sheet is actually quite on older product type. Typically referred to as "Engraving Stock" or "Engraving Plastic", this material is a 2-tone/layer material that has been used to make name badges, desk name plates, indoor signs, room or table number signs for many decades! With the recent explosion of consumer level laser engravers, this material is seeing some new uses - ones with some more creativity involved! This material is simple to use: Your design or wording is laser engraved through the top layer, revealing the bottom layer, so you end up with white letters on a pink background or field (Pink on White). Typically, the sheet is referred to as the "(top color) on (bottom color)" when ordering or shopping online. We took a few sheets of our massive stock of 2-tone/layer plastic and made our own version of the classic candy hearts for Valentine's Day. We used throw back phrases like "I (heart) YOU", "MY LOVE" and "YOU & ME" and then profile laser cut the hearts. These are such simple little designs that have a lasting effect and will go great with the rest of your Valentine's Day decor. Bonus points in offering customers customization options if you're selling online!

That wraps up our February Color of the Month picks! We will be back with more of our March picks (the summer months can't come quick enough!). As always, we are here for support and questions regarding all things acrylic sheet. Now, go out and CREATE!