Happy Holidays!


We are excited to announce our December Color of the Month colors! Obviously, December means the holidays. Acrylic is a fantastic option for all kinds of laser cut or UV printed holiday decor and personalized gifts.
If you spend any time on boutique sites like Etsy, you're bound to see endless amounts of acrylic Christmas tree ornaments that can be customized with names, dates, even pictures! Most of these ornaments are laser cut and engraved, but you will see more UV printed ornaments as UV printers become the norm.
It's tricky to narrow down all the sheet types and colors we offer for December, so we have a pretty big list this month. Our picks include a little bit of everything in our acrylic sheet including Glitter, Transparent, Translucent, Clear, Frost, ColorHues, Plastiblurs, and Acrylic Mirror!

Glitter Acrylic Sheet
Red Glitter with a laser cut profile of a jumping reindeer

Up first we have our Glitter Acrylic Sheet. This is an easy one; They're incredibly eye catching colors - especially when laser cut into holiday theme shapes for hanging on the tree! Glitter Acrylic is a highly desirable sheet type for its outstanding visual characteristics. We often say that the pictures don't do it justice. A favorite among our craft, art, and display minded customers, you will get endless joy out of the Glitter sheets. When laser cutting our glitter sheet, you'll find that the depth of the glitter effect goes all the way through - making it possible to create unique and personalized holiday gifts and decor year after year. Bonus points for glitter ornaments reflecting the Christmas lights on the tree in a beautiful way!
Mirrored Acrylic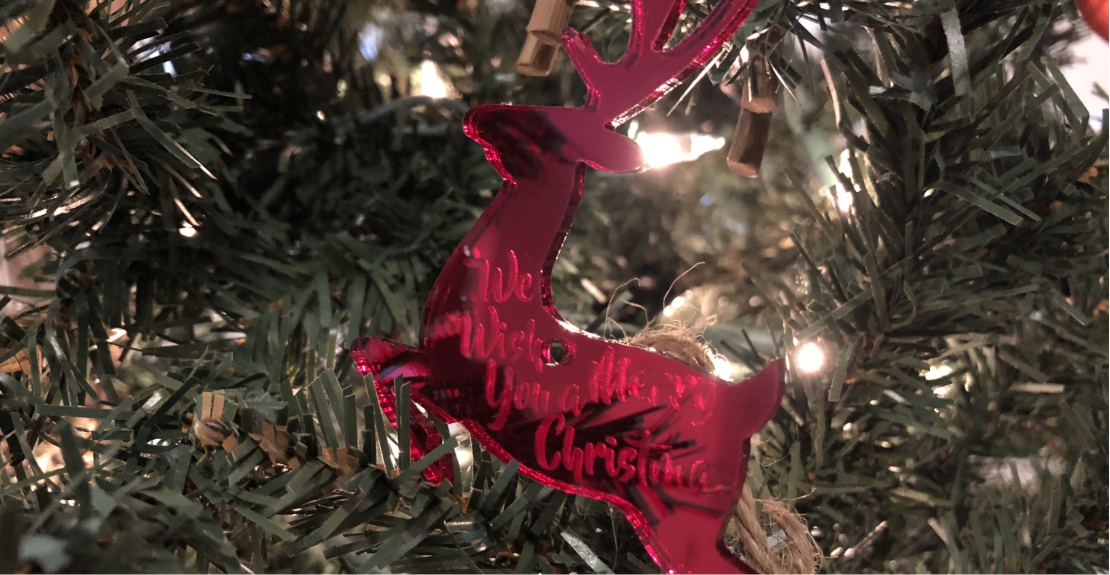 Red Mirror with reverse laser engraved text and profile cut for a unique ornament.

Next up, we decided that our Clear & Color Acrylic Mirror make great additions to your holiday creations. Acrylic Mirror is great because in appearance it is identical to regular glass mirror. Add Color to the mix and you've got some exciting options to choose from! Mirror acrylic provides a new style for laser cutting and engraving. The pieces you can create immediately have more 'depth' due to the reflective nature; add mirrored ornaments to the family Christmas tree and you'll catch everyone's attention! A very cool way to engrave the mirror is what is called a reverse engrave. This type of engraving can be done on any of our sheet, but it can be extra cool on mirror. A reverse engrave is achieved by "mirroring" the art work or text in your graphic design program, so that it reads backwards. Once the piece is completed, you'll turn it over to see an engraving with depth - just don't forget to mirror your outline cut as well!
Transparent, Translucent, & Fluorescent Acrylic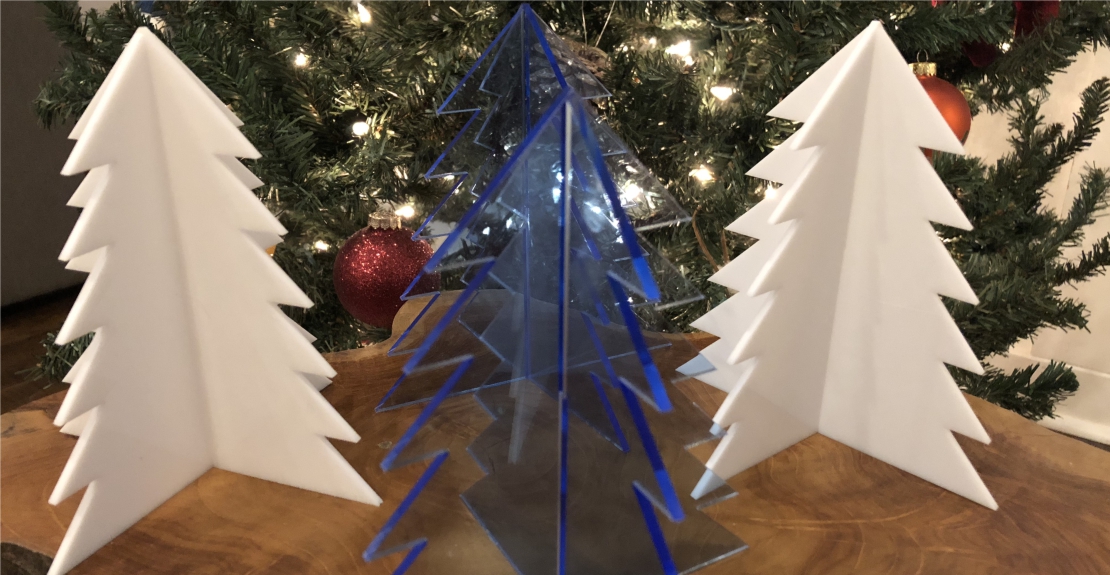 (Top) 2092 Green & 2423 Red reverse laser engraved text and profile cut into a traditional Christmas ornament design. (Bottom) 7328 White & 9092 Fluorescent Blue laser cut into interlocking pieces to create a standalone tree for a unique holiday display.
Considered some of our "standard" acrylic sheet types, these are classics! We couldn't not include the faithful holiday color theme acrylics in our standard styles. Transparent Acrylic is acrylic sheet that is easily seen through, but with a tinted color. For example, 2423 Red will have the appearance of red glass. For this reason, laser engraved words or images will have a striking contrast!
Translucent Acrylic is sheet that is not seen through, but will allow a relative amount of light through, creating a "glow" or back lighting effect. This sheet is excellent for use in light boxes, or holiday themed signs.
Fluorescent Acrylic is similar to Transparent in that it can be easily seen through, but with a very important difference; glowing edges! Our Fluorescent Acrylic sheets are very popular for all things laser cutting because of its ability to appear as if it's glowing in natural daylight or indoor light!
ColorHues & Plastiblurs
Soft Blue Plastiblur sheet laser cut into a snowflake.
Our ColorHues & Plastiblurs Acrylic sheet styles are great for two reasons: pastel/soft colors and a frosted finish! One important note is that the ColorHues are frosted on one side only whereas Plastiblurs sheets have frost on both sides. These sheet types are great for laser cutting and engraving. Because of their frosted finish, these colors take on the frosty look of the holidays when cut into festive designs like snowflakes - and won't require a coat to stay warm while enjoying them! Equally great looking on the Christmas tree as they are scattered around the house in preparation for the ugly sweater party, our frosted acrylic sheet can be used in contemporary holiday design as well as more boho holiday design.
Clear & Clear Frost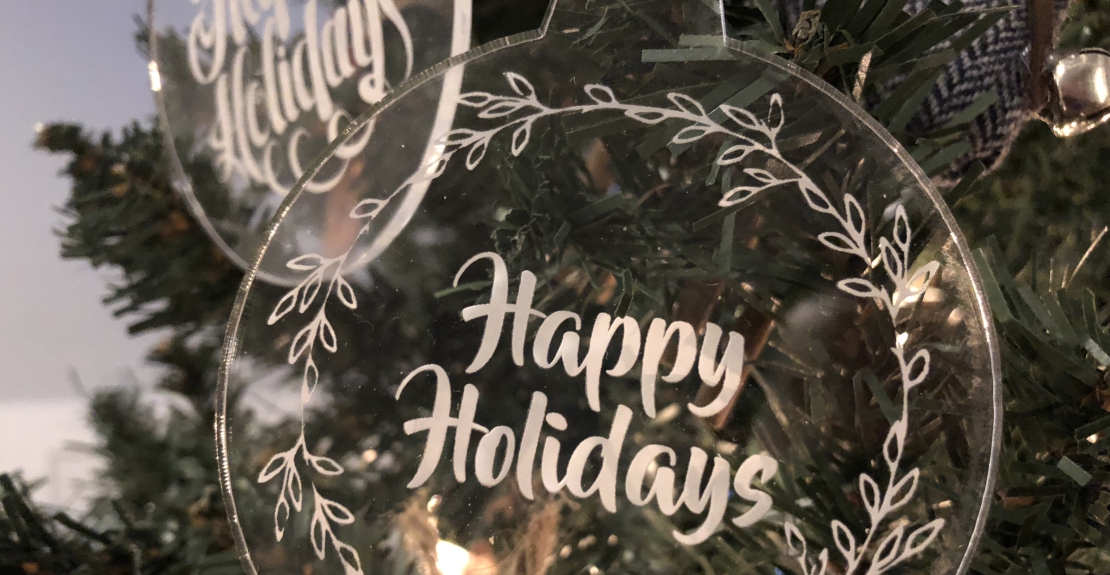 Clear Acrylic reverse laser engraved text and profile cut.
Finally, we have the staple of our acrylic sheet lines: CLEAR! Clear might seem simple enough, but it sheet can be laser cut and engraved into seemingly endless possibilities. Clear sheet is our typical go to when doing any engraving on sheet that will be edge lit. While all acrylic sheets will be able to transfer light, Clear stands heads and shoulders above the rest. Especially while using a specific color LED light. When laser engraving cast acrylic sheet, the engraved area has a "frosted white" effect, so anything engraved on Clear sheet will have a striking contrast when compared to other sheet types.

That wraps up our December picks! Hopefully our ideas get some creative vibes rolling for you heading into the holiday season and the new year!