Plastic Welding - Low Cost Solutions for Do-It-Yourselfers
Plastic Welding is fun and easy. Welding plastics (Polyethylene, Polyproplyene, PVC, ABS) requires that you melt the plastics together. A flame is too hot and only burns the plastics. Our Seeley welding units have a heating element in the handle that heats the air to approx. 550 F which melts that plastics together without burning the materials. The weld in the plastic is often stronger than the original plastic itself. It is easy to repair a fender or gas tank on an ATV. Remember that you must use a welding rod that is the same type of material that you are welding.
See our complete instruction on How to Weld

SI-1005 SEELYE ELECTRIC PLASTIC WELDER UNIT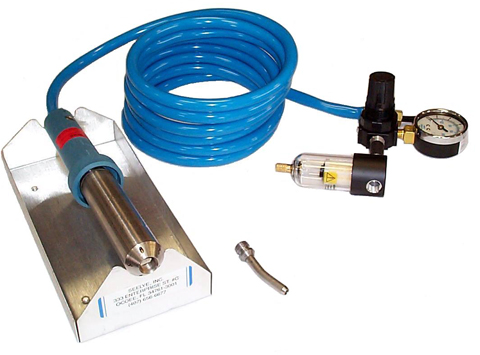 Our basic Seelye Welder contains everything necessary for fast economical welding of plastics. Weld polyethylene, polyproplyene, PVC, and ABS. It has been said that by the year 2008 50% of the components, bumpers, hoods, gas tanks, etc. well be constructed from plastics which can only be repaired by welding. If you do any repairs on ATV's, automobiles, RV's, you need our welder. Includes one round tip (shown below), air regulator, pressure gauge, steel stand, 500 watt element and complete instructions for operating. The list price on this unit is $298.50, our online price is $265.00 We also carry various attachments and welding rod. Immediate shipping from our warehouse.
| | | |
| --- | --- | --- |
| Seelye SI-1005 Electric Hot Air Welder | $265.00 | |
ATTACHMENTS - Welding Tips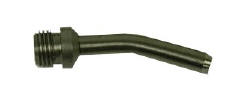 #5

Round Tip -

This tip takes any size welding rod. With the welder in one hand and the welding rod in the other, use a fanning motion on the underneath side of the welding rod and the top of the base plastic. Remember to keep continuous pressure on the welding rod. (This tip is included in our SI-1005 Welder)

List Price $20.85

| | | |
| --- | --- | --- |
| #5 Round Welding Tip | $18.50 | |



#4 Tacking Tip -

No welding rod is required with this tip. This tip is used to tack a seam together. This is strictly a pre-welding tip. Drag the tip along a seam to hold in place until a permanent weld is completed.

List Price $29.50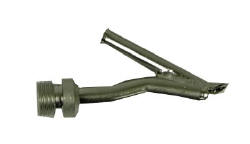 #9 1/8" High Speed Welding Tip for 1/8" & 5/32" Welding Rod

Round Automatic Speed Tip for 1/8" & 5/32" dia welding rod (Old Style). This tip is an automatic speed tip, which allows the user to have a free hand. The welding rod is inserted into the feeder tube and once the rod adheres to the base plastic the user can let go of the welding rod. It enables you to weld at speeds 4 to 6 times faster. It feeds the rod in the right direction to form uniform welds. Stainless steel construction

List Price $87.99

| | | |
| --- | --- | --- |
| #9 High Speed Welding Tip | $79.00 | |
HEATING ELEMENTS


Our elements work on all of our Seeley SI-1005 Welders. It's always a good idea to keep a spare element just in case your present element burns out. This will save you a lot of time if you are in the middle of a job. Our welders come with the 500 Watt installed but we also offer a 650 watt element. This is a hotter element and you should be careful when using it. We recommend a 500 Watt element for all type of welding, it is hot enough for fast welding but not too hot to burn the welding rod.
500 Watt - Temp 460 - 770F
650 Watt - Temp 570 to 900F
220 Volt Elements available on special order.
List Price $34.80 (choose wattage after ordering)

PLASTIC WELDING ROD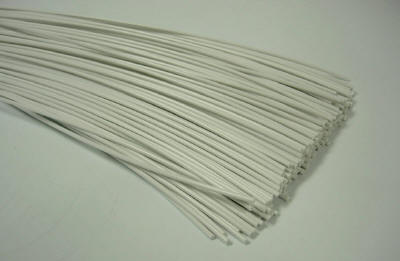 We use only virgin resins and adhere to strictest quality control methods available. This ensures that you receive the absolute best plastic welding rod available.
Because of our control standards, we are able to offer a welding rod that is superior in quality to any of our competitors. Don't risk using an inferior welding rod that costs you valuable production time when you can use premium-grade welding rod.
We guarantee the consistent diameter, the consistent shape, of our plastic welding rod.
No other manufacturer of plastic welding rod can match our pledge to total customer satisfaction!
All of our plastics welding rod is manufactured in 1/8" dia. x 48" in length.
| | | |
| --- | --- | --- |
| 1/8" Dia. Natural Polypropylene (200ft/lb) | $8.50/lb | |
| | | |
| --- | --- | --- |
| 1/8" Dia. White Polypropylene (200ft/lb) | $8.50/lb | |
| | | |
| --- | --- | --- |
| 1/8" Dia. Low Density Polyethylene (200ft/lb) | $8.50/lb | |
| | | |
| --- | --- | --- |
| 1/8" Dia. High Density Polyethylene (200ft/lb) | $8.50/lb | |
| | | |
| --- | --- | --- |
| 1/8" Dia. White ABS (160ft/lb) | $13.00/lb | |