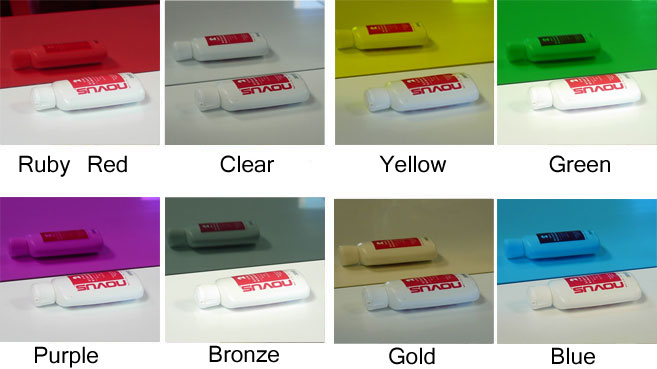 Clear and Colored Mirrored Acrylic Plexiglass Sheets
Our mirrored acrylic (Plexiglass) sheet is made from continuously processed (extruded) acrylic sheet. The front side has a protective paper masking that keeps the sheet scratch free while you cut, sand, or fabricate it. It has the industry's toughest protective back-coating, which protects against scratching during fabrication.
Available in clear and 7 vibrant colors, this durable acrylic mirror is ideal for all type of projects including point-of-purchase displays, casinos, children's toys, cosmetic displays and for applications in the food service industry.
*Our mirrored acrylic (plexiglass) sheet is half the weight of glass, acrylic mirror is shatter resistant and allows for extensive design flexibility.
Uses include plastic displays, plastic signs, plastic letters, decorative profiles, locker mirrors, shower mirrors, dental utensils, etc.
It may be cut into intricate shapes, drilled, sanded, polished, machined, cold formed for curved shapes or heated for sharp line bends.
*Safer than glass with ten times the break resistance, acrylic mirror lends itself to many different applications.
*Intended for interior applications for decoration, display, and/or where safety considerations require the break resistance of acrylic sheet.
*Acrylic mirror offers a combination of the lightweight, excellent shatter-resistant qualities of acrylic plastic with reflectance.

Mirrored acrylic features brilliant colors at half the weight of glass while being eight times stronger. It is weather and fade resistant and can be drilled, sawed and cemented.
Rigidity: Acrylic sheet does not have the rigidity of glass or metals. However, it is more rigid than many other transparent plastics such as acetates, butyrates, and polycarbonate. See notes below on how to use mirrored acrylic sheet.
Thinking of installing our mirrored acrylic sheet in a dance hall, exercise or weight lifting room? It will work with proper installation:

Consider this:
Who will be installing the mirror? You or your contractor.
What experience do you have installing the mirror? If you do not have any you will need to purchase some extra material and practice.
How long do you expect is to last? If you clean the mirror with the proper cleaners it will last for years and years.
How are you going to clean the mirror? Using the proper cleaners is mandatory.
What if it scratches? Acrylic is a softer material than glass and it will scratch if it is abused (for instance kicked).
What building codes do you need to conform to? Check with you local authorities to see if it meets your building codes.

Acrylic sheet is a rigid sheet but it is not as rigid as glass. If you attach our mirror to a curved surface or uneven wall, and most walls are uneven, you will get a "fun house" look to the mirror. We suggest that you use 1/2" or 3/4" MDF plywood panels. Use a spray on adhesive, or purchase the mirror with a adhesive backing. Attach the mirrored sheet to the MDF panel with an even weight for about 2 hours.
When cleaning any acrylic sheet, including mirrored acrylic sheet, use our acrylic cleaners. Acrylic sheet tends to get a static build up and it attracts dirt like a magnet. Cleaning the sheet with the proper cleaner will eliminate the static charge, avoid scratches and keep the sheets looking like new for years.
Purchase any of our Clear, Transparent, Translucent, Fluorescent or Mirrored Acrylic sheet, both clear and colored, and receive the following disounts:(mix and match any combination of size, type, thickness or color to get the best discount)
2 Sheets 5% discount
4 Sheets 7% discount
6 Sheets 10% discount
8 Sheets 12% discount
10 Sheets 15% discount
Please note: We cut our sheets to a tolerance of +/- 1/16". Often our customers are cutting the acrylic sheet to smaller sizes and would appreciate a slightly oversized sheet, if it is available. When checking out please check "standard" for our standard tolerance of +/- 1/16" or "oversized" for a sheet tolerance of -1/16" to +1/2" (at no extra charge). (If oversized is checked we will do our best to give you a sheet that is up to 1/2" larger in length and width, but we can not guarantee that it will be available. You may still get a standard tolerance sheet but we will do our best to send it oversized.)
1/8" Thick Clear Mirrored Acrylic Plexiglass Sheet
| | | |
| --- | --- | --- |
| 1/8" Clear Mirrored Acrylic Sheet 12" x 12" | $7.70/Each | |
| 1/8" Clear Mirrored Acrylic Sheet 12" x 24" | $14.00/Each | |
| 1/8" Clear Mirrored Acrylic Sheet 24" x 24" | $25.50/Each | |
| 1/8" Clear Mirrored Acrylic Sheet 24" x 48" | $45.00/Each | |
We are now stocking 1/4" Clear Mirrored Acrylic Sheet. (.220" actual thickness)

This is a thicker, more substantial sheet. It tends to resist bending, the fun house look, as easily as our 1/8" thickness.

In addition to being light weight, acrylic mirror is ten times stronger than glass and it is an excellent choice when safety is a consideration. Unlike regular glass, acrylic mirror does not shatter into small sharp pieces when broken.

1/4" Thick Clear Mirrored Acrylic Plexiglass Sheet.

For a short time we are offering or 12" x 12" sheet at 20% off our normal pricing, plus our quantity discounts still apply!
| | | |
| --- | --- | --- |
| 1/4" Clear Mirrored Acrylic Sheet 12" x 12" | $9.20/Each | |
| 1/4" Clear Mirrored Acrylic Sheet 12" x 24" | $20.00/Each | |
| 1/4" Clear Mirrored Acrylic Sheet 24" x 24" | $38.00/Each | |
| 1/4" Clear Mirrored Acrylic Sheet 24" x 48" | $69.00/Each | |
1/8" Thick Colored Mirrored Acrylic Plexiglass Sheet
Select a color after choosing sheet size.
| | | |
| --- | --- | --- |
| 1/8" Colored Mirrored Acrylic Sheet 12" x 12" | $10.00/Each | |
| 1/8" Colored Mirrored Acrylic Sheet 12" x 24" | $19.70/Each | |
| 1/8" Colored Mirrored Acrylic Sheet 24" x 24" | $35.50/Each | |
| 1/8" Colored Mirrored Acrylic Sheet 24" x 48" | $64.00/Each | |