Acrylic Fabrication Supplies
We carry a complete line of products and tools for fabricating acrylic projects.
Bump-Ons
Edge Scraper
Applicator Bottles
Turn Tables
Arbor Adaptors
Suction Cups
Hinges

Bump-Ons
Bump Ons are small (3/8" Dia.) rubber feet that you apply to the bottom of acrylic sheet and projects to keep the item from slipping and protect the surface you are putting the project on. They have a permanent, pressure-sensitve adhesive applied to the flat side.
• Easy and quick to apply
• No drilling required
• Helps save time and labor

Available on a sheet of 56 pcs
| | | |
| --- | --- | --- |
| 3/8" Bump-Ons | $5.00 per 56 pcs | |
Edge Scraper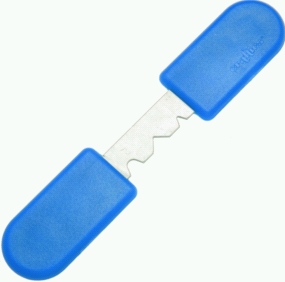 Craftics Edge Scraper - This unique tool has four features in one. Not only will it remove saw marks from flat edges, it also bevels thick and thin material, and will radius the edge quickly and evenly. Instructions are on the back of the card
Applicator Bottle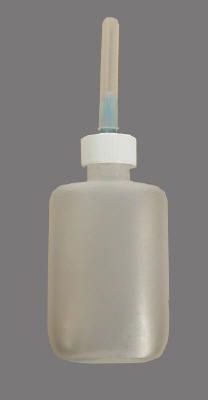 Our applicator bottle is made exclusively for applying thin acrylic solvent cements (Weld On #3). The bottle is a full 2 oz. size and the needle allows for capillary cementing of acrylic plexiglass sheets. The bottle comes with a dust proof cap to protect the blunt needle. Do not use with Weld on #16.
Tip: When using the bottle, keep the bottle upright and squeeze a little bit of air out the bottle. As you tip the bottle and move the needle towards the sheet you want to cement, let a little bit of air into the bottle. Just the heat from your hands tends to expand the solvent cement and forces a drop or two onto the sheet. ANY solvent cement that gets onto the sheet will mar sheet. Take extra precautions to make sure the only cement you get on the sheet is where you want it.
| | | |
| --- | --- | --- |
| Applicator Bottle | $2.85/each | |
Drill Bits

Craftics Plas-Drill Bits - Our drill bits for plastic are specially made to produce clean, chip-free holes in acrylic and other plastics. Most commercial drill bits are sharpened to cut into wood or metal, acrylic drill bits are sharpened to scrape the acrylic away. Excellent for hand drills. 90° point, 0° rake.
Available in 1/8" to 1/2" Diameters
Note: Acrylic/Plexiglass requires special tools for drilling. Back the acrylic with soft wood, clamp the sheet, or hold it firmly. Use the highest drill speed available, up to 3000 rpm. When drilling holes 3/8"or larger, slower drill speed (1000-2000 rpm) will improve the quality. Do not force feed, let the drill bit do the work. If you are drilling more than one sheet at a time slowly feed the drill bit as drill point penetrates second surface. Awlays drill 1/16" oversize holes. Holes should be located to provide at least a 1/4" solid material from edge of hole to edge of sheet. Use round-head screws. Tighten screws snugly and back off 1/4 turn to provide freedom of movement for expansion or contraction of the acrylic.
| | | |
| --- | --- | --- |
| 1/8" Drill Bit | $2.80/each | |
| 5/32" Drill Bit | $3.40/each | |
| 3/16" Drill Bit | $3.70/each | |
| 1/4" Drill Bit | $4.90/each | |
| 5/16" Drill Bit | $6.60/each | |
| 3/8" Drill Bit | $8.00/each | |
| 7/16" Drill Bit | $12.80/each | |
| 1/2" Drill Bit | $13.90/each | |
Saber Saw Blades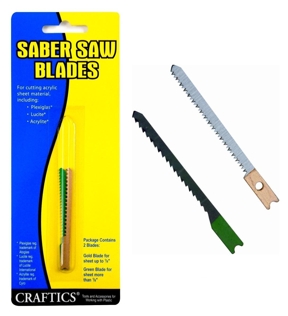 Craftics Saber Saw Blades / 2 pack Each package contains one blade (gold) for material up to 1/8" thick, and one blade (green) for thicker materials. Designed to cut acrylic, polycarbonate, and styrene so smoothly that edges can be polished. Blades are 3.75" long
| | | |
| --- | --- | --- |
| 2 Pack Saber Saw Blades | $4.70/pack | |
Arbor Adapter
Turn any hand held electric drill into a buffer for acrylic sheet
If you are buffing the edges of a project you can use our buffing wheels with an electric drill with our arbor adaptor. Turn the wheel at full speed, with the wheel moving back and forth against the edge of the acrylic sheet. The arbor adapter allow use any of our buffing wheels with any electric drill.
We also carry a complete range of buffing wheels and compound
Plastic Cutting Tool
This is the Do-it-yourself acrylic cutting tool.
This tool is the quick and easy way to cut everything from decoration acrylics to textured acrylics to clear and colored acrylic sheets. When cutting, use a straight edge as a cut guide to scribe the material. When breaking at the cut, hold one side of the panel firmly with one hand near the scribe line. With the other hand, lift the short end of the panel, starting at one end of the panel and progressively break the material full width at the scribe line.
The tool is made of quality materials for long life usage. No replacement blade is necessary if properly sharpened (instructions on resharpening explained on back of packaging).
| | | |
| --- | --- | --- |
| Plastic Cutting Tool | $5.00 | |